Equitable Housing Policy Is Reproductive Justice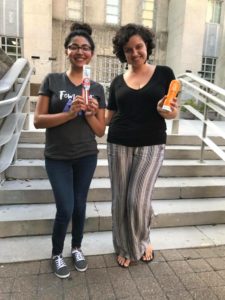 As the natural disaster that was Hurricane Harvey exposed the man-made injustices that marginalized groups face in Houston, we at NARAL Pro-Choice Texas and the Lilith Fund knew it was important that our Repro Power TX day of action contribute to relief efforts for the people hit hardest by flooding.
In the words of sociologist Matthew Desmond, "Decent, affordable housing should be a basic right for everybody in this country. The reason is simple: without stable shelter, everything else falls apart." That was certainly the case for Houston's homeless, many of whom lost all of their possessions and did not stand to benefit from government aid after Harvey. So we decided to collect donations of personal care supplies for people who are trying to regain a sense of normalcy in the absence of housing. We also wanted to support the work of Food Not Bombs, who have been sharing healthy meals with the homeless in Houston for over 20 years.
We served delicious vegetarian food alongside a group of steadfast volunteers and distributed everything from menstrual care kits (donated by Planned Parenthood Gulf Coast) to lotion and toothbrushes directly to the more than 60 people we had helped feed because this, too, is reproductive justice. Given an inadequate supply of affordable housing and a freeze in federal housing assistance, and as Houston's city government effectively criminalizes homelessness, struggling for basic survival every day renders homeless people unable to truly make decisions for their own and their families' health and well-being. As a result of several barriers to reproductive health care access, the rate of unintended pregnancies and the number of adverse birth outcomes are higher among the homeless when compared with the general population.   
In order that all Houstonians can live the lives that they want, with all the resources and support they need to thrive, we call for equitable housing policies and a greater commitment to providing services to the homeless as part of our Repro Power Houston policy agenda and campaign. Sign on to support today.