Abortion Speak Out Scheduled in September at City Halls Across Texas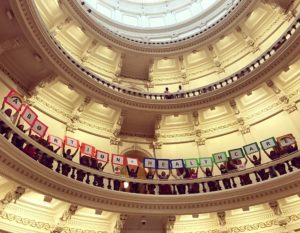 Lilith Fund, Texas Equal Access Fund, West Fund, and NARAL Pro-Choice Texas are launching the statewide Repro Power TX initiative with simultaneous abortion storytelling speakouts in four major cities throughout the state—Dallas, El Paso and Austin and a special hurricane relief action in Houston. As we gather at city halls around Texas on September 27—just before the anniversary of the federal Hyde Amendment that bans public coverage for abortion–we invite you to join us in mobilizing our own communities to build power and create a groundswell of support for reproductive justice and access to abortion.
Following this year's regular and special legislative sessions, when lawmakers continued to attack abortion access and rob local communities of their power, it's time we come together and take back our cities. We know that the majority of people in our Texas communities support access to abortion, but unfortunately, hostility in the Legislature means that these voices often go unheard. Through Repro Power TX and together with our supporters, we commit to holding our cities accountable for taking steps to protect abortion access in the face of attacks.
Together, we envision a Texas in which there is widespread public support for abortion access from the ground up, and abortion is accessible to everyone seeking it — stigma free. It's time for our city officials to hear the voices of our communities.
RSVP for our launch events today:
Austin: npctex.as/repropoweraustin
Dallas: npctex.as/repropowerdallas
El Paso: npctex.as/repropowerelpaso
Houston: npctex.as/repropowerhouston